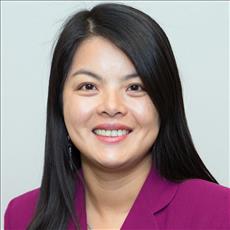 Qin (Joanna) Liu
Financial Services Representative
Professional Story
Focus Areas
Insurance Strategies, Risk Management Strategies, Retirement Strategies, Retirement Income Planning, Investment Strategies (Reg. Reps Only), College Funding Strategies
Languages
English, Chinese-Cantonese, Chinese-Mandarin
Biography
My career in financial services began in 2011. Prior to that, I had experiences working in both the accounting sector and the health insurance industry. The culmination of my knowledge in these related fields affords me the ability to offer a more well-rounded perspective and an elevated level of insight to my clients when it comes to setting strategies for their finances.
I truly appreciate being a financial professional because it lets me do what I love—helping people. Just like how you maintain healthy conditions of your physical body, I believe that the health of your finances also requires attention, and it is often too important to be neglected or put off.
I help my clients identify gaps or pitfalls in their finances and in-turn offer guidance to develop sound strategies that would mend these gaps and ultimately weave a financial safety net that would not only meet their current needs but also their future goals as well. At the end of the day, knowing I helped my clients built a secure financial foundation which can allow them to enjoy life with less worry is what's most fulfilling for me in this career. I'd love to help you get started with a pulse check on your finances, contact me at (718) 517-9585 or at qliu@financialguide.com.
Professionally, I've been recognized for the following firm and industry achievements:
Platinum Conference 2012, 2014-2016 (MetLife)
Leaders Conference 2011-2020 (MetLife + MassMutual)
Blue-Chip Council 2018-2020 (MassMutual)
MDRT member 2018
I am licensed to sell insurance in: CO, CT, FL, GA, NC, NJ, NY, PA, TN, and TX, and securities in NY.
I am a registered representative of and offer securities through MML Investors Services, LLC, Member SIPC (www.sipc.org). Supervisory address: 330 Whitney Avenue, Suite 600, Holyoke, MA 01040, Tel: (413) 539-2000.
Coverpath - Get a quote for term life insurance

CRN202409-850644
Check the background of this investment professional on FINRA's BrokerCheck
MassMutual NYC - Flushing (41-60 Main Street)
MassMutual NYC - Flushing (41-60 Main Street) Office