Chinese-American Planning Council (CPC) receives $5,000 MassMutual Foundation Grant
NY, NY,
- Chinese-American Planning Council, Inc. (CPC), the nation's largest Asian American social services organization which serves over 60,000 community members each year through more than 50 programs at over 30 sites throughout New York City, has received a $5,000 grant from the MassMutual Foundation as part of a national Community Service Award (CSA) program. Chinese-American Planning Council is one of twenty-two organizations nationally to receive an award. The MassMutual Foundation made the grant as a tribute to the volunteer efforts of Xue Wang, a MassMutual agent with MassMutual Greater Hudson in Chinatown, New York City.
"We are stronger when we come together as a community, and our Community Service Awards program recognizes a group of MassMutual financial professionals who embody this spirit, working with members of their respective neighborhoods, towns and cities, helping nonprofits with which they are involved grow and thrive," said Dennis Duquette, Head of MassMutual Community Responsibility and President of the MassMutual Foundation. "We are proud of the time and energy Xue dedicates to better her community and delighted to support the great work MassMutual financial professionals do with organizations across the country."
Chinese-American Planning Council's mission is to promote social and economic empowerment of Chinese Americans, immigrants and low-income communities. In 2017, CPC launched Advancing Our Community, its organization-wide strategy to expand services to address persistent needs, emerging trends, as well as to improve leadership skills among staff and community members.
"This generous grant from the MassMutual Foundation will help CPC to achieve our mission. We will be able to sustain our high-quality programs and services as well as empower our community members to reach their fullest potential," said Wayne Ho, President & CEO of CPC.
Xue has been with MassMutual Greater Hudson for 11 years. She has been committed to Chinese-American Planning Council since 2014 and has dedicated considerable time and talent to help the organization grow and flourish.
"I am very pleased that my dedication to the Chinese-American Planning Council has been recognized by the MassMutual Foundation," said Xue. "This grant will provide much needed funding to continue supporting our community through CPC's efforts in offering a variety of life, family, school, health, career, economic and even special needs assistance to local community members in need, as well as sustaining their quality early childhood, school-age childcare, youth, and senior services centers throughout New York City."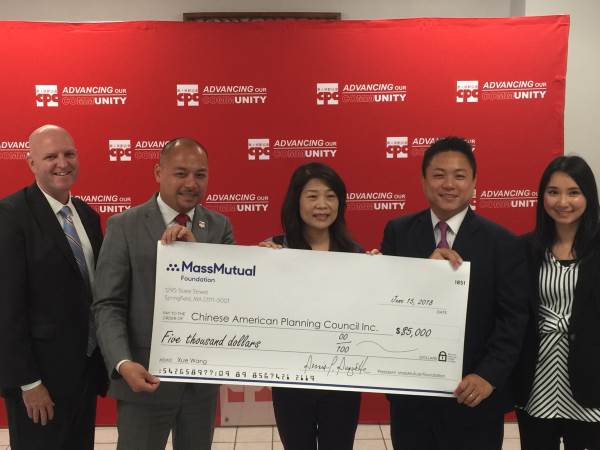 About the MassMutual Foundation
The MassMutual Foundation strives to broaden economic opportunity for America's youth and their families by investing in financial education for middle and high school students across the United States and economic development and education locally in Springfield, Mass. The Foundation is a reflection of MassMutual's longstanding dedication to corporate citizenship and its unwavering commitment to the communities in which we do business. To learn more about the MassMutual Foundation please visit
www.massmutual.com/responsibility
.
About MassMutual
MassMutual is a leading mutual life insurance company that that is run for the benefit of its members and participating policyowners. MassMutual offers a wide range of financial products and services, including life insurance, disability income insurance, long term care insurance, annuities, retirement plans and other employee benefits. For more information, visit www.massmutual.com.
CRN202008-216182