MassMutual Greater Hudson congratulates Winners of its 2018 Scholarship Award
NY, NY, – MassMutual Greater Hudson, a financial services firm with over 35 years' experience and history of servicing the Chinese-American communities at large, with offices located in Chinatown, Flushing, Brooklyn, N.Y. and Edison, N.J. proudly announces and congratulates the three winners of their 2018 Scholarship Award. A total of $10,000 was awarded with 2 runner-up recipients each receiving $2,500, and one top award winner receiving $5,000 to go towards their college education. Having participated in numerous local outreach programs, financial planning for special needs, sponsorships for local non-profits, along with a series of free financial literacy seminars for both students and adults, this Scholarship Award is just one of the many ways MassMutual Greater Hudson invests their time and resources to give back to the local community.
"The competition was intense," explained Rika Wu, Marketing Director of MassMutual Greater Hudson. "We received many highly qualified scholarship applications, but in the end, these three winners really stood out with their exceptional academic achievements, community service and volunteering efforts, as well as their knowledge and practice of financial responsibility. They exemplified strength and tenacity not only as students, but in life."
Runner-up scholarship recipient Annie Hong, a graduate of Townsend Harris High School in New York, volunteers diligently for her school and a community after school program. Besides having outstanding academics, she also participates and excels in a wide array of creative outlets, such as arts and crafts, piano, film group, and baking. She will be attending Stony Brook University in the Fall, majoring in Engineering and exploring her passion for creative writing.
Runner-up scholarship recipient Jia Min (Kelly) Zheng, a graduate of Harrison high school in New Jersey, who earned an exceptional 4.38 GPA, has been her school's Debate Club President since 2014. She was named Debater of the Year in May 2016 and 2017 by the New Jersey Law and Education Empowerment Project, where she was an active member. She was also a team leader in a coding project offered by the Stevens Pre-college Program. Kelly will be attending Brandeis University in the Fall, majoring in Economic and Entrepreneurial Business with the goal of one day starting her own nonprofit organization to help make education more assessible to kids in low income families.
Top scholarship recipient Megan Labato, a graduate of Clarkstown High School South in New York, is a driven young lady with a clear vision of her career and is already taking the necessary steps to obtain her goal. Combining her love of animals and desire to make an impact, Megan actively volunteers as a Puppy Raiser for The Seeing Eye, which raise puppies to become guide dogs for the blind. She has received the Best Friend Award in December 2017 from the organization for her efforts. She also fosters orphaned puppies for a local rescue and volunteers at her local animal sanctuary Pets Alive to train shelter dogs to help increase their chances of adoption. All these valuable experiences helped her obtain a job at a local pet resort when she was just 16 years old. With her income from work, she demonstrates savvy financial responsibility by paying her own car and phone bills, while saving the rest of her paycheck for a "raining day", all the while maintaining her outstanding academics throughout high school.
Megan will be attending Rutgers University in the Fall with a dream of owning her own emergency veterinary hospital in the future. Her focus, compassion, and meticulous planning has captivated the scholarship committee and set herself apart. Her dream starts with her working in a veterinarian office, she mapped out her steps by planning to obtain Canine Nutritionist Certification during the summer of her freshmen year; completing her veterinary technician licensing exam by the end of her Sophomore year; Interning at the University of Pennsylvania Working Dog center after her junior year; and ultimately, earning her PhD graduate degree in Veterinary Medicine from Tufts University's unique shelter Medicine Program.
"Aside from servicing the financial needs of our clients, community involvement has and will always be an important part of our firm's core values. We strongly believe that we are not only here to run a business, but to make a positive impact on the lives we touch," said Derek Chan, President and CEO of MassMutual Greater Hudson. "I want to sincerely thank all the applicants for applying to our scholarship and to congratulate our three wonderful winners as they each truly possess the academic and social values we find important as a community centric organization. Through this scholarship, we hope to alleviate some financial pressures of attending college from their families. Professionally and personally, I want all the applicants to know that they can always keep in touch and count on us as a resource to provide financial guidance, to help make their hopes and aspirations, one day, a reality!"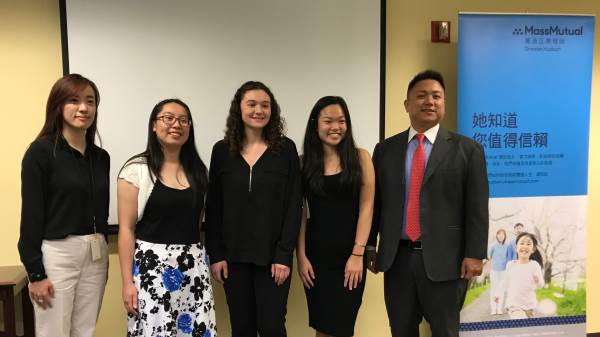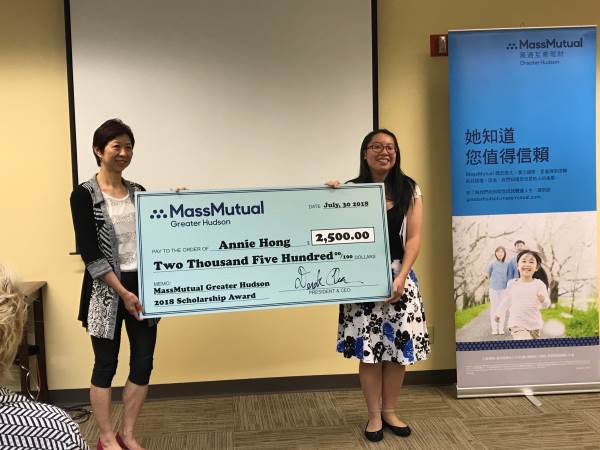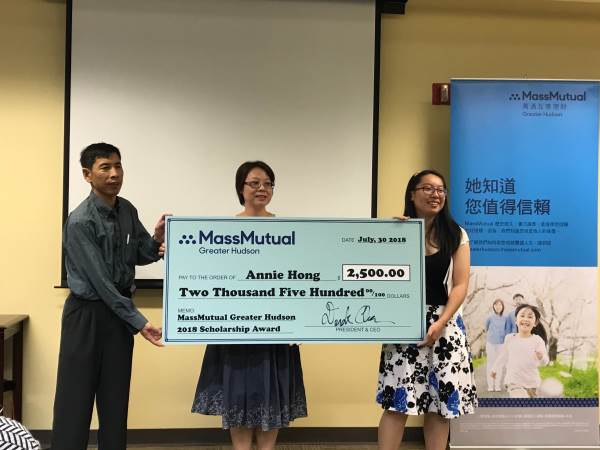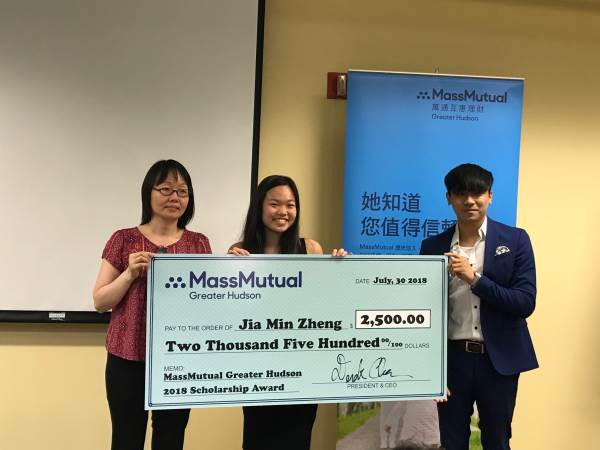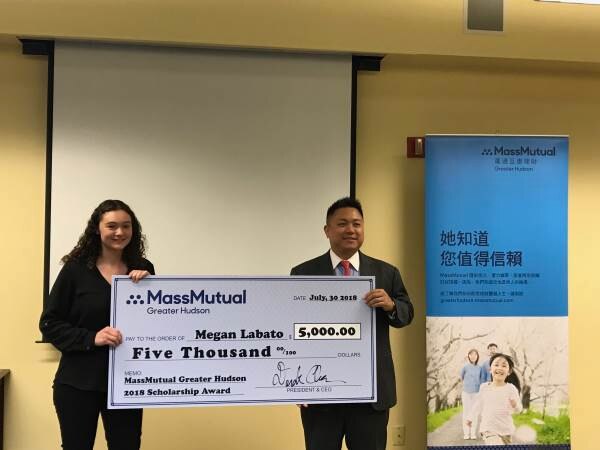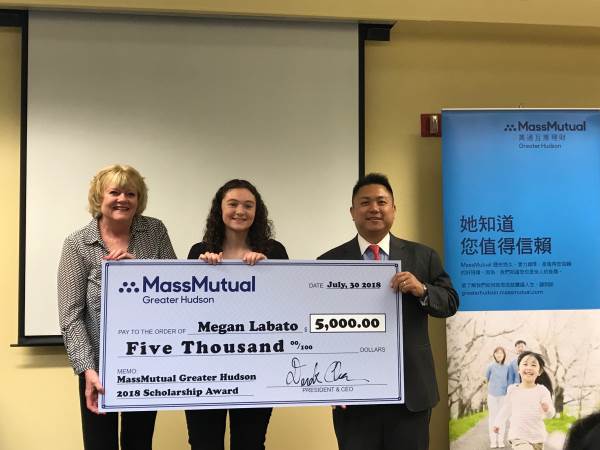 MassMutual refers to Massachusetts Mutual Life Insurance Company (MassMutual), Springfield, MA 01111-0001, and its affiliated US insurance agencies. Local sales agencies are not subsidiaries of MassMutual or its affiliated companies. Securities, investment advisory and financial planning services offered through qualified registered representatives of MML Investors Services, LLC. Member SIPC (www.SIPC.org). Supervisory address: 2 Mott St 9FL, New York NY 10013. Tel:212-619-5420.

CRN201907-233756